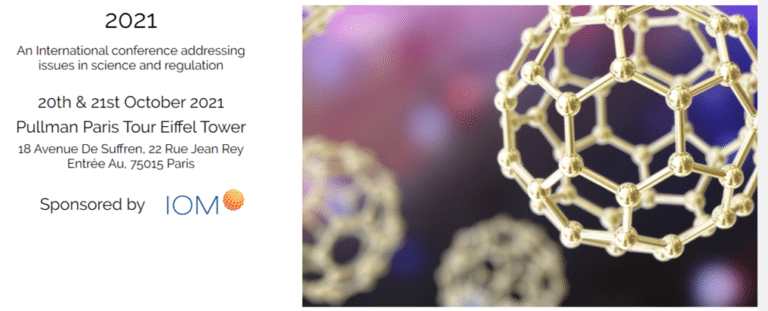 [Congrès] Particles & Health 2021 - 20 et 21 octobre 2021
Event Description:
An International conference addressing issues in science and regulation
Regulatory initiatives in the European Union (EU) have resulted in proposed classifications for all poorly soluble low toxicity particles (PSLTs) for carcinogenicity. Examples of PSLTs include carbon black, titanium dioxide and iron oxide, among others. Approaches have also been proposed for setting workplace exposure limits for these materials, such as by the German MAK Commission.
This scientific conference will facilitate interaction and discussions among attendees with expertise in toxicology, epidemiology, occupational and pulmonary medicine and exposure assessment. The purpose of this conference is to promote interactions between these different disciplines to aid in the sound and evidence-based scientific underpinning of regulatory standard considerations regarding PSLTs. Although regulatory concern regarding PSLTs has focused on lung cancer risk as a result of rat inhalation overload studies, this conference will address all relevant health end points, including genetic and reproductive issues as well, consistent with ECHA guidelines.
Scientific Program Committee : Robert McCunney MD, MPH (Chair), Nathan Baker, Len Levy PhD, Kevin Driscoll PhD, Paul Borm PhD, Nils Krueger DVM, Dominique Lison MD, PhD, Lang Tran PhD, Rodger Duffin PhD, Vicki Stone PhD
Address scientific studies regarding human health effects of PSLTs. The value of human studies over animal studies-when human-exposed populations can be studied adequately- will be emphasized.

Review and discuss definition of PSLT's proposed at Edinburgh workshop and published in 2020 in the Journal Inhalation Toxicology with attention to both similarities and differences among these substances.

Address translational toxicology challenges, including the appropriateness of rats as models for human lung pathogenesis (particularly lung cancer) in light of lung overload phenomena and species differences.

Serve as a platform to present current scientific information about PSLTs important for regulatory action.

Publication of pertinent conference presentations in the peer reviewed scientific literature will allow the presentations to live beyond the conference and subsequently be reviewed part of regulatory deliberations.

Establish an interdisciplinary setting for industry, academia and regulatory professionals to interact on an important topic. Such interaction can facilitate enhanced understanding of the science and appropriate classification, labeling and setting exposure limits, among others.

Recommend areas for further research regarding the significance of the rat as a model for translation toxicology.

Review the biokinetics of inhaled nanoparticles and the potential for non-pulmonary effects.
Location
Pullman Paris Tour Eiffel Tower
Dernière modification :
9 mars 2022 17 h 12 min